For more information on our AWESOME Austin Bulldogs Soccer program – AUSTIN GIRLS SOCCER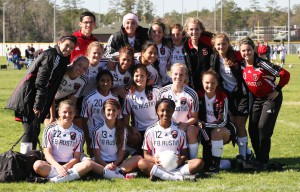 1/14/12 Varsity finished 2-0-1 at The Woodlands Tournament. They outscored opponents 8-1. In the process they tied the 14th ranked team in the nation and beat other teams in their pool for the top spot by allowing fewer goals.
1/12/12 Photos have been posted of scrimmages under "Photos". If you dont see your team its because we arent receiving pictures. Turn in your discs to Coach A.
2012 – Fort Bend Austin stretches unbeaten streak in district to 84 games

2012 – It's not about the streak for Austin

2012 – Shootout victory helps Austin extend unbeaten streak to 82 games

2012 – Austin not slowing down

2012 – Derr Nominated for Girls athlete of week

2011 – Austin's Zamora, Kempner's Vilche earn district MVP awards

2011 – Austin's Kincaid has Lady Bulldogs' defense on track for postseason

2011 – SOCCER: Austin girls clinch fourth straight district title

2011 – Austin girls top Clements for strangehold on first place

2011 – Austin girls thriving on soccer field yet again

2011 – Austin fights to stay on top

2011 – Fort Bend Lifestyles Magazine "Best of" Edition-Best Girls Soccer Team

2011 – Girls Soccer Preview

2010 – Big first half helps Austin Win Playoff Opener

2010 – Lady Bulldogs out to back up unbeaten district season

2010 – FB Austin does homework, aims for the next level

2010 – Good attitude could lead Austin girls deep into postseason

2010 – Soccer perfection for Austin Girls Soccer

2010 – In Studio: FB Austin Girls' Soccer (video)

2010 – Austin girls top Clements to remain atop soccer standings

2010 – ESPN All-State Players-Kelsey Zamora

2009 – Fort Bend Austin claims league title

2009 – FB Austin in familiar position

2009 – Seven Lakes girls outlast FB Austin in soccer shootout