Welcome to The Dawg Pound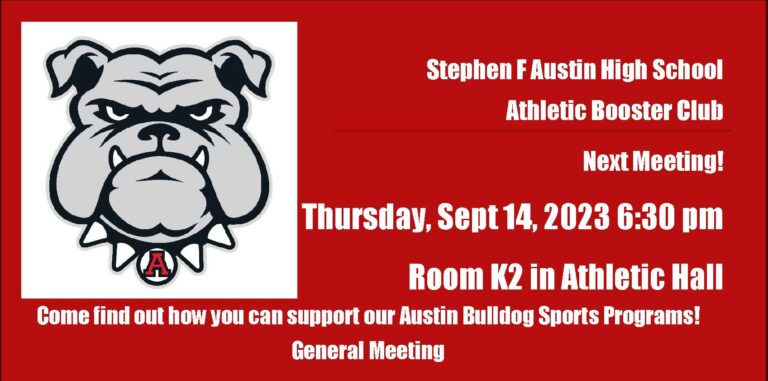 Do you believe that high school sport participation offers character definition, life lesson and discipline opportunities for athletes? If so, consider joining the Stephen F Austin Athletic Booster Club and help maximize the experiences of AHS athletes. The SFAABC provides Bulldog sport programs the funds necessary that allows the programs to excel with the proper equipment and facilities not provided by FBISD. Don't be a bystander, join today by becoming a member. Joining is online and easy, and your athlete's sport(s) will get the credit and recognition for adding another Bulldog SUPPORTER to the Dawg Pound!
Each year, AHS coaches and sports coordinators together, create research and present lists of needs and wishes to the SFAABC. The SFAABC presents a budget for large items and votes on a shared list of program wishes for our AHS athletic programs. Goals and budgets are presented at the first SFAABC meeting of the school year. All goals and budgets are in line with current and posted Club bylaws and are voted on by the full Board of Directors as well as any Club members in good standing in attendance. At the end of each school year, a percentage of general fund monies are shared amongst ALL AHS athletic programs that achieve the following posted goals:
Individual sport reaches a 30% Family/Fan Membership base according to current year's Rank One roster,
Hosts at least one individual sport fundraiser* of which fundraiser monies go directly to the sport,
Enlists the support of a sport coordinator(s) that regularly attends SFAABC meetings (see bylaws for attendance info)
All AHS fans, supports, and family members are invited to any and all SFAABC general meetings. These meetings are typically about an  hour as we are respectful of everyone's time and are generally held on the first Monday of each month OR as posted on this site and social media outlets. Connect with and our Bulldogs online:
Twitter: @AHSAthleticBC
Facebook: @AHSBulldogs
_______
GO DAWGS! Together is Better!
BULLDOG SPORT PROGRAMS
Baseball * Basketball * Cheer * Cross Country 
Football * Golf – Individual & Team * Softball * Soccer * Swimming & Diving 
Tennis – Individual & Team * Track * Volleyball * Sports Medicine/Trainers